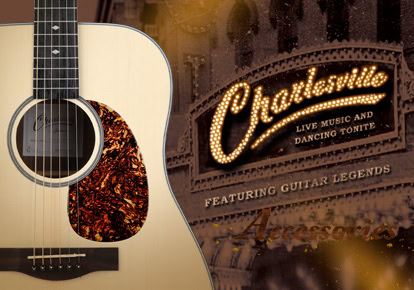 Take the road to Charlesville
Like a sweet summer rain, the all-new and wondrously magical sounds of the early 1900's acoustic guitar first poured through the Dance Halls and Honky-Tonk bars of the American South. From the Mississippi Delta and on up through Memphis and Nashville, and on to Chicago and New York City. This novel acoustic guitar instrument turned heads and ears everywhere. It confirmed its grand entrance and it is here to stay. The music scene was creatively uplifted and forever transformed.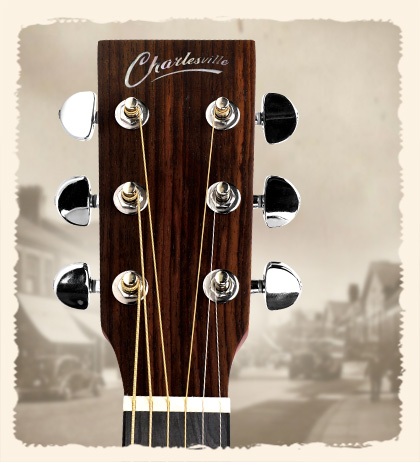 You too can transform your music world with any model from the new "Charlesville" branded family of critically designed acoustic guitars. Blending rich, soulful sound and superior build techniques with true-vintage lines and trim, our experienced luthiers applied unending research and engineering efforts and collaborated with various artists to finally arrive at Charlesville.
As you find yourself standing at the Crossroads of adopting your next acoustic guitar; your next trustworthy music-maker friend; reward yourself and take the road to Charlesville . . .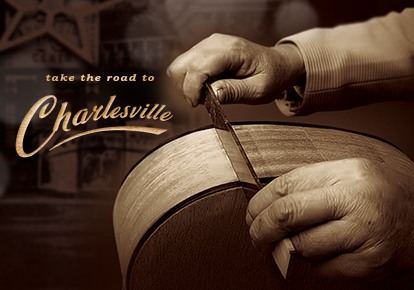 Responsive Charlesville guitars boast hand-selected European alpine-spruce tops for gorgeous attack and surprising sustain. To shave weight while maintaining long-life strength, similar spruce material is crafted into top and body bracings to offer a quite musical topside with the optimum mix of rigidity versus flex.
Charlesville legacy-guitars incorporate solid woods with laminated back and sides from true, beautifully-grained mahogany or rosewood.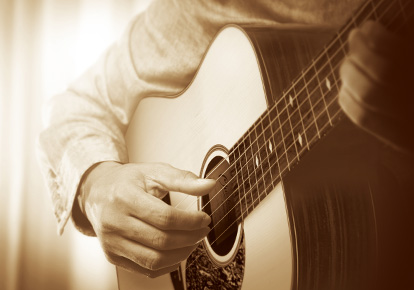 Void of any manufacturing short-cuts, the neck to body address does not employ any bolts or screws and offers a genuine hand-fit dovetail neck joint. This type of "orchestral" fitment is much like that of a violin to ensure the full length of the instrument faithfully amplifies and prolongs the vibrations resulting from your slightest string pluck.
The Charlesville hardwood neck is solidly bolstered by a hardened-steel truss rod system. The neck will rarely require adjustment for proper strings set-up while a standard sized hex wrench is included with each guitar. Available with cutaway. Pickup and logo gig bag optional. Please review our specs and personally demo our fine guitars as you take the road to Charlesville . . .